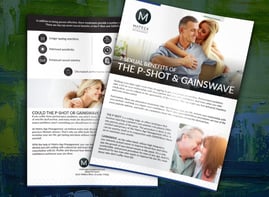 When you struggle to get or maintain an erection, it affects more than just date night. Your confidence, your ability to perform, and your relationship with your partner all take a toll.

But what if there were non-surgical treatments to reverse the symptoms of erectile dysfunction and help you get your sex life back?

Two revolutionary treatments, the P-Shot and GAINSWave, can reverse the symptoms of ED and restore your confidence. And these are just a few of the many benefits of these safe, long-lasting treatments.

Fill out the form on this page to download our FREE infographic, 7 Sexual Benefits Of The P-Shot & GAINSWave, and discover how these proven procedures can help you get the most out of your sex life.