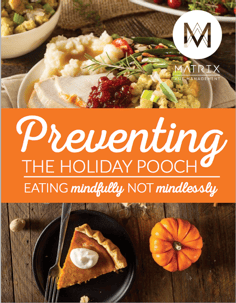 The holidays are here and we are all jittery with excitement. We gain so many things during the holidays: beautiful memories, thoughtful gifts, priceless photos, a few pounds…
Don't weigh yourself down worrying about what you can and cannot eat this holiday season. Download Matrix Age Management's free Holiday Food & Fitness Guide and find out how you can still indulge in holiday treats and fit in exercise during your busy schedule.
In Preventing The Holiday Pooch: Eating Mindfully, Not Mindlessly, you will receive healthy, yet delicious holiday recipes and healthy recipe substitutions, quick exercises you can do at home and more.
Download our free Holiday Food & Fitness Guide by filling out the form on this page.