When the leaves start to turn, it's time for boots, football, bonfires, and of course...pumpkin. Whether it's in your favorite coffee drink, a decadent pie, or some yummy muffins, pumpkin-flavored foods everywhere. Unfortunately, all these seasonal delights can do major damage to your waistline. But have no fear; we're here to help.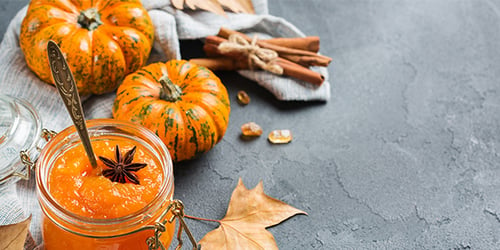 We understand wanting to indulge in seasonal goodies, and you absolutely can, just be mindful of how you're indulging and how often! We're entering the season of pumpkin spice everything, so here are five recipes to satisfy your cravings, with little impact on your diet plan!


1. Healthy Spiced Pumpkin Yogurt Parfait
These parfaits—which call for Greek yogurt, pumpkin, agave nectar, cinnamon, nutmeg, ground ginger, and granola—double as a guilt-free dessert and a power breakfast.
With plenty of antioxidant-rich pumpkin and the ability to choose whichever granola works best for your diet, this recipe boasts lots flavor without all the bad stuff. The best part? It only takes ten minutes to prepare.


2. Chocolate Swirl Pumpkin Spiced Smoothie
When you're craving a smooth and creamy pumpkin spiced drink, try this smoothie instead. It uses pumpkin puree (which you can make yourself if you're a do-it-yourselfer), soy milk, maple syrup, cinnamon, nutmeg, pecans, and cocoa powder. This recipe is sure to put pumpkin spiced lattes everywhere to shame.


3. Clean Eating Pumpkin Spice Baked Apples
Apples are another staple fall fruit. Baking them fills your home with heart-warming aromas and your belly with sweet nutrition. But why just bake apples when you can throw in a little pumpkin spice goodness?
Use honey (or maple syrup if you prefer), pumpkin spice, dried fruit juice sweetened cranberries, and walnuts to serve your kids this healthy candy-apple-like dessert.


4. Pumpkin Pie Spiced Pumpkin Seeds
Pumpkin seeds are full of protein, high in fiber, and low-calorie. And when they're roasted, you can add "delicious" to that list. This version—which included nutritious ingredients like cloves, cinnamon, ginger, nutmeg, stevia, and olive oil—provides a fun fall-themed (and healthy!) snack that's sure to be gobbled up by your guests on Thanksgiving.


5. Pumpkin Spice Protein Pancakes
This recipe may not technically be a dessert, but it sure tastes like one. The ingredients include protein powder, pumpkin puree, cinnamon, baking powder, egg whites, oats, milk, honey, butter, and maple syrup (for serving).
These aren't just pancakes. They're a healthy kick-butt powerhouse breakfast (or dinner!). If you're avoiding dairy, try substituting the milk and butter for other options (such as almond milk or some variety of nut butter). And to cut out calories even more, serve with fresh fruit or peanut butter instead of syrup.
With these recipes, you're sure to have a delicious, healthy fall! Give the experts at Matrix Age Management a call for other ways to incorporate good nutrition and fitness into your routine for a healthy lifestyle.