Whether it's for a weekend or a week, a couples vacation could be one of the most romantic things you and your partner experience.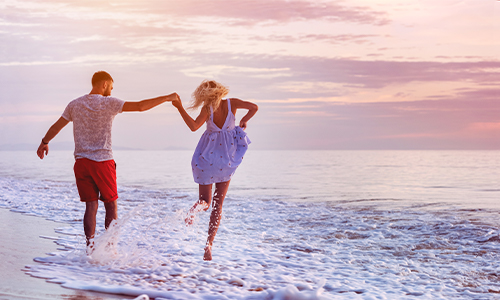 In today's hectic world, spending quality alone time with your partner without the distractions of home, work, or kids is already a romance win. But there are ways you can push that romance meter higher, making the trip far more memorable and pleasurable, and we have some suggestions to help you do just that!


1. Plan a "Suitcase Surprise"
Perhaps one of the easiest surprises to pull off is a Suitcase Surprise. Simply purchase something your partner might want (or need) on your vacation, wrap it up, and slip it into their suitcase before you leave.
When you arrive at your destination and they unpack, they'll love the surprise and thoughtfulness of your gift.
Some ideas could be:
Chocolates
A new book by their favorite author
A wrap or sweater for a pre-planned boat ride
A new digital camera (ditch the phone, see item number 2!)

2. Unplug
Leave your phones in your room. Spending time with one another can be incredibly romantic, especially in this fast-paced, high-tech world. Without distractions, you're able to be in the moment with your partner, enjoying their company and the vacation getaway you both deserve.


3. Book a Spa Treatment
The week before you leave, watch the weather forecast for your destination. Pick a day where the weather looks less than stellar and book a spa day for your loved one.
Go all out and plan a facial, massage, and mani/pedi. If you're up for it, accompany them. If not, spend some time making plans for dinner in, complete with chilled champagne, fresh fruits, and a favorite entrée.


4. Do Something Different
Instead of simply shopping, eating, or sitting on a beach, consider doing something a little more out of the box.
Rent bicycles and explore the countryside (weather and safety permitting)
Rent a canoe or kayaks for a river adventure
Bring a tent and camp out under the stars
Climb a mountain
Go on a horseback ride
Get creative! Research the off-the-beaten-path opportunities at your vacation destination and find a way to spend some unique quality time together!


5. Write a Love Letter
This may sound cheesy, but it's a surprisingly thoughtful way to show your partner you care. Pay attention to how your partner looks on a particular night, in the moonlight or candlelight, how their hair looks or what scent they wore, and write a letter using the hotel stationery outlining how great they looked.
You can slip the letter in their suitcase. Or, before you leave for home, you can send the letter to your partner through the mail so they'll get it a few days after returning home. It may not be an immediate "romance" generator, but it's sure to boost the romantic vibes once you're settled back into your routines and the vacation buzz is starting to wear off.


6. Sexual Vitality Treatments
Prepare yourself before you leave! Whether you're a man or a woman, a Sexual Vitality treatment can take your sex life up a notch for both you and your partner.
Our Sexual Vitality Program is designed to address your specific issue or concern and improve the quality of your sex life. For men, we offer:
GAINSWave – Because most performance problems result from a lack of sufficient blood flow to the penis, we offer the GAINSWave treatment. GAINSWave is a breakthrough process that utilizes high-frequency, low-intensity pulsed waves to improve blood flow, repair aged blood vessels, and more, boosting your ability to achieve and maintain an erection while also improving sensation and stamina.
P-Shot – If you're struggling to get or maintain an erection, the Priapus (P) Shot is a non-surgical, cutting-edge treatment that can help reverse the effects of erectile dysfunction with powerful, long-lasting results. It can also improve the size and appearance of your package.
For women, try:
diVa – Residual sexual issues caused by childbirth trauma or shifting hormones shouldn't keep you from a fulfilling sex life. diVa is a revolutionary laser resurfacing procedure that improves vaginal tissue and helps you experience greater orgasms without surgery or medication.
O-Shot – The O-Shot is a non-surgical treatment that injects your own high-quality platelet-rich plasma (PRP) into the vaginal area and around the clitoris to stimulate tissue growth and improve lubrication and blood flow, making sex more fulfilling and gratifying.


Make The Most Of Your Romantic Getaway
You've worked hard and deserve this break. You've planned and prepared and saved to make it happen.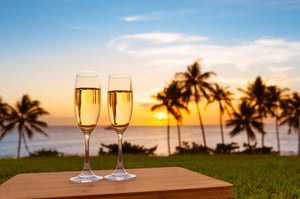 Don't let performance problems, bladder leakage, or decreased sensitivity prevent you from enjoying your vacation to the fullest.
If you're struggling with sexual performance, vitality, or satisfaction, consider scheduling a consultation today and discover how our Sexual Vibrancy Program can help you put the romance back into your relationship!