Last-minute holiday preparations and parties can cause your stress levels to skyrocket. Your schedule is packed, and time is a commodity that's in short supply. That means most of your usual activities have to take a back seat to the holiday chaos — including your sex life.
But Christmas Eve is a different story. To many, Christmas Eve is the most romantic holiday of the year, and for good reason. Snow's piling up on the front porch, everyone's in a cheery mood, and there are plenty of surprises waiting under the tree.
This year, make Christmas Eve a night to remember. With these six tips, you can ensure your evening is as enjoyable as possible — for both you and your partner.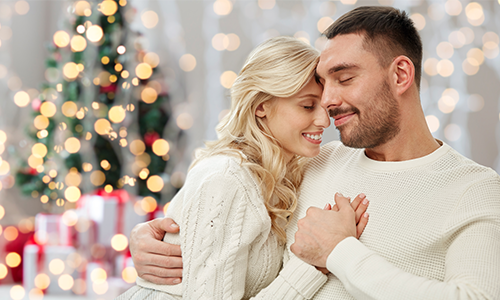 Tip 1 – Keep Treats In Check
If you have the willpower, try to stay away from too much sugar, salt, and processed foods. These foods can cause bloating, which makes you feel sluggish and weak.
Instead, focus on eating larger amounts of green veggies, fruit, and water. These will not only boost your energy, but the hydration will also work wonders for your skin.
Tip 2 – Spend Quality Time Together
The best way to get in the mood for a night of intimacy is to spend some quality time together. Snuggle up on the couch and watch a movie you both love. Look through old photos of the two of you. Play board games.
You might be surprised by how far a little quality time can go.
Tip 3 – Invest in Confidence Boosters
Nothing makes you feel sexier than looking your best. Quality skin moisturizers can keep your skin soft and touchable, a fresh haircut or color can boost your self-esteem, and some new lingerie can keep the mood festive.
Tip 4 – Don't Skip The Gym
It's tempting to neglect your workouts over the holidays. You can get an extra hour if you just skip the gym. You can run a few errands and maybe get home early. But how much more will you be able to do when you feel energetic and strong?
Instead of breaking your routine, stick to your fitness schedule – especially during the holidays. Staying in shape and keeping a check on any weight gain will go a long way in enhancing your confidence.
Tip 5 – Indulge With Some Mood-Boosting Treats
Aphrodisiacs are foods that improve intimacy by increasing your body's natural production of sex hormones, releasing endorphins, speeding up your heart rate, and improving your energy levels. You've likely heard that oysters are an aphrodisiac, but there are other more festive treats that can get your blood flowing.
Other aphrodisiac foods include chocolate, watermelon, avocados, chili peppers, honey, pine nuts, strawberries, figs, pomegranates, and asparagus. This quick and delicious chocolate panforte recipe makes a great holiday treat packed with libido-boosting superfoods. For additional mood enhancement, swap the pecans for pine nuts.
Tip 6 – Consider Matrix's Sexual Vitality Program
Whether you're a man or a woman, Matrix's Sexual Vitality program can help make Christmas Eve with your partner a night to remember. At Matrix Age Management, our Sexual Vitality Programs are designed to help you ramp-up your self-confidence, enjoy better sex, and deepen your intimacy for your partner.
For ladies, the Sexual Vitality program offers the O-Shot or diVa, two revolutionary sexual enhancement treatments that are safe, provide proven results, and are fast-acting.
Some benefits include:
Increased lubrication

Increased libido
Increased quality and frequency of orgasms
Men can benefit from the P-Shot or GAINSWave, cutting-edge approaches that can amp up your sex life quickly.
A few benefits you can see from these treatments include:
Longer lasting erections

Improved sensitivity
Improved stamina
With all the stress and chaos of the holidays, it may seem like there's no hope for a decent, private moment together. But, even though the moments may be less-frequent due to holiday schedules, there's no reason why you can't make Christmas Eve with your partner a night to remember.
If you're looking to give your sex life the boost it deserves, schedule a consultation today and get ready to give your partner a Christmas Eve for the books!
*Image courtesy Women's Weekly Food.