Gone are the days of the fat-free craze that actually turned out to be even more damaging than eating full-fat foods. Now, we know that you need to eat fat to burn fat.

It turns out that fat is a nutrient that boosts your metabolism, along with curbing your hunger. Fat keeps you fuller, longer and helps to suppress insulin levels to avoid feelings of a sugar crash.
Not only that, but dietary fats provide energy, promote cell growth and hormone production, and protect your vital organs. The American Heart Association calls them essential for health and well-being.
But eating more fat can be challenging. How do you know you're eating the right kind of fat, and how much should you really be eating?

Today, we'll put these questions to rest so you can improve your metabolism and health. We'll also let you in on some insider secrets and delicious recipes you can use to incorporate more fat into your diet.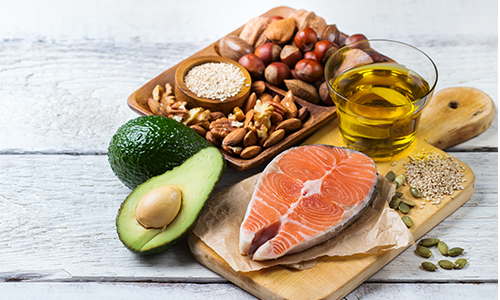 What Fats Are Considered Healthy?
Not all fats are created equal. It's essential to distinguish the good fats from the bad fats so you can incorporate them into your regular diet and start reaping the benefits (without gaining extra weight).
You can get fats from several sources: nuts, oils, fruits, and other foods. A good rule of thumb is to try to get one serving of fat from any of these sources each meal. Here's a list of foods that contain healthy fat.
Nuts And Seeds That Contain Healthy Fats
Pine Nuts
Hazelnuts
Pistachios
Walnuts
Sunflower Seeds
Almonds
Sesame Seeds
Chia Seeds
Fruits That Contain Healthy Fats
Avocado
Coconut
Olives
Cacao (Dark Chocolate)
Meats & Animal Products That Contain Healthy Fats
Full Fat Yogurt
Cheese
Whole Eggs
Duck Breast
Fatty Fish
Lamb
Pork
Oils That Contain Healthy Fats
Olive Oil
Canola Oil
Coconut Oil
Flaxseed Oil
Want to know which products are the most nutritious? You can read more about the number of nutrients in each serving of these powerful foods here.


Delicious Ways To Eat More Healthy Fats
What's better than eating healthy fat foods? Combining them with other delicious nutrient-rich foods for filling meals and snacks.
Here are some tips to DIY your healthy fat in really fun ways.
Blend It.


Blended smoothies are a delicious way to get all the good stuff. Add healthy fats to your favorite smoothie ingredients to make it more satisfying.
Here's a Fatty Shake recipe to try
2 cup frozen spinach
1.1/4 cup coconut milk
1 tbsp cacao powder
1 tbsp chia seeds
2 tbsp frozen blueberry
2 egg yolk
1 tbps MCT oil
Combine ingredients and blend on high for 1 minute. Enjoy!
2. Bomb It.
We're talking about fat bombs. These tiny treats pack a real punch when it comes to delivering nutrients. You can make them sweet or savory depending on your mood.
Here's a recipe for one of our favorite savory snacks: Pistachio Fat Bombs
Ingredients
8 ounces (1 cup) mascarpone cheese, softened
1/4 teaspoon pure vanilla extract
3 tablespoons confectioners style erythritol sweetener
1/4 cup chopped pistachios
Steps
In a small bowl, combine the mascarpone, vanilla, and sweetener.
Mix gently but thoroughly with a fork or spatula, until well blended and smooth.
Roll by hand into 10 balls, about 1 inch in diameter. (if too soft to roll, chill 10 minutes and try again.)
Place the pistachios on a small plate and roll the truffles in them until completely coated.
Chill 30 minutes before serving.
Store in an airtight container in the refrigerator for up to one week or in the freezer for up to 3 months.


To make a savory version, omit the sweetener and vanilla. Stir in 1/2 teaspoon minced garlic and 1 tablespoon of chopped herbs. Parley, chives or basil would all be a good choice. You can also use a nut other than pistachio if it's what you have on hand!
Here are more great recipes to explore.
You can even buy fat bombs ready-made!
3. Brew It.
Time for the most magical of all. Unicorn Fuel: butter coffee so filling and delicious, you'll be ready to handle whatever the day holds.
2 cups coffee
1 tablespoons MCT oil (If it's your first time only ½ T. If you don't have MCT Oil, Coconut Oil will do.)
1 tablespoons grass fed butter
1 teaspoon maca
1 teaspoon cacao
1/4 teaspoon cinnamon
1/8 teaspoon turmeric
pinch of cayenne
a few sprinkles of ginger (optional)
Blend and enjoy. Be sure not to settle for just spoon-stirring this drink. Blending brings out the best.
And don't fret if you're off coffee. Feel free to substitute your favorite hot liquid of choice: chai tea, coconut, milk, or even just hot water.


Get Healthy In Every Way (Without Having To Do It Alone)
Increasing your healthy fat intake is a great start, but if you're ready to make even more positive changes to your health, we invite you to join the Matrix program. Together, we'll help you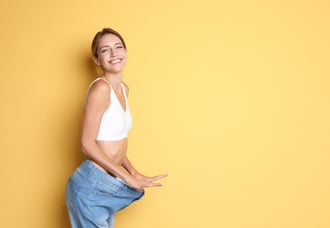 Lose weight
Gain energy
Feel confident
Look amazing
Improve long-term health
Reduce signs of aging
Everything you need to feel good again, now. And you don't have to do it all on your own. We'll guide you through the process step by step, and we'll ensure your flexible plan fits into your busy lifestyle.