There's nothing better than enjoying some fun and relaxation while on vacation. However, it can be very disappointing when you return home, step on the scale and realize all the progress you had made toward your weight loss goals got lost along the way.
It's easy to get off track when you take a vacation. If only there was a way to enjoy yourself completely but still maintain your healthy weight. Well, cheer up and pack your suitcase, because here are 8 tips to help you avoid that vacation weight gain.

Choose A Room With A Kitchen


If cooking healthy meals has become part of your weight loss journey, then keep it up on vacation by staying in a hotel room with a kitchen or small kitchenette. You don't have to cook every meal (you are on vacation after all), but cooking a few healthy meals instead of eating out can save you dollars and calories.

Share Meals When Eating Out

When you do go out for meals, try sharing an entrée with your spouse. Most restaurants provide portions larger than one person needs anyway. This is another opportunity to save money and maintain your healthy weight.

Pack Small Snacks For The Day

If you plan to be on the go all day, pack healthy snacks to take with you. Small baggies of veggies or trail mix will satiate hunger and keep you from splurging on less healthy treats. Small snacks throughout the day also keep you from binge eating when dinner arrives.

Take Romantic Walks Together

This is a wonderful way to spend quality time together and fit in some low-impact exercise while on vacation. Explore the city together or walk hand-in-hand along the beach.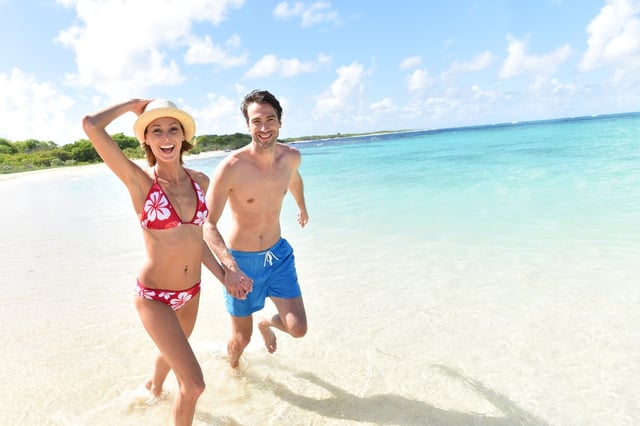 Schedule Physically Active Activities

If you're planning your trip out, choose activities that involve exercise. Sign up for a walking tour. Learn to surf, parasail or swim with the dolphins. Take a walk through the local parks. You'll have a blast and exercise all while experiencing your destination.

Get Plenty Of Sleep

A major part of your healthy lifestyle has to include getting plenty of sleep. Avoid scheduling your vacation so that you are constantly waking up early and getting to the hotel late. Although it's tempting to pack your day as full of activities as possible, remember to leave time for rest and relaxation. Aim to leave an afternoon or two open for taking a nap or resting in the hotel.

Avoid The Alcohol

Sure, it can add a little fun to your vacation, but alcohol also adds lots of empty calories to your waistline. If you plan to enjoy a drink or two then be sure to do so in moderation and remember to continue drinking plenty of water.

Hold Each Other Accountable

If you're traveling with your significant other, remember that a healthy relationship requires both of you to be invested in each other's well-being, even when you're on vacation. Couples can work together to plan healthy meals, schedule playful activities and commit to quality time together like those romantic walks on the beach. Vacations are a perfect time to recharge your personal batteries and your relationship with your spouse.
Want more information on healthy living? Contact Matrix Age Management today and take a proactive approach to better health.