Congratulations! You've made the decision to change your diet to improve your health. Perhaps you are motivated by weight loss, targeting specific health concerns, or simply seeking to increase your energy and vitality--all are celebration-worthy reasons to take control of your body's fuel.
Even when you genuinely seek to make positive changes in your health, staying on top of your ideal diet can be a real challenge, especially for today's fast-paced lifestyle.
Ensuring your home is stocked with the healthiest options takes time, as does preparing quality meals from quality ingredients. It's a struggle to cook healthy meals every day, or prepare and freeze meals ahead of time.
Then when you're faced with needing a meal fast (which let's face it, is going to happen), we're all most likely to take the path of least resistance. This risks breaking your chosen diet and losing progress. There has to be a better way!
Happily, there is. The modern world of technology, connection, and personalization has given rise to a wonderful solution: healthy meal delivery services.
We're not talking about GrubHub or UberEats that bring you greasy fast food on the fly. We're talking about
high-quality ingredients for easy, yummy, filling grab-and-go meals and snacks, delivered right to your door.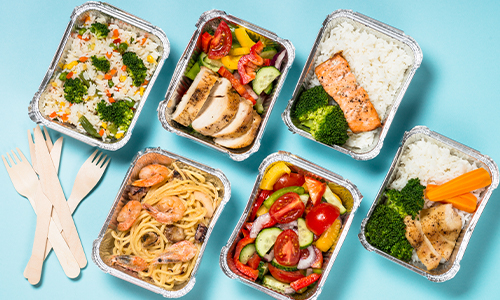 Enjoy the Benefits
Outside of meal delivery you have two options: Shop for ingredients and cook from home, or purchase meals from restaurants for dine-in or take-out. Both of these options can have major downsides on your time and money. But with healthy meal delivery you reap all the benefits, including:


1. Convenience
It's like the Amazon Prime of healthy eating. Delicious meals that align with your health choices delivered right to your door.
Each service has its own speciality, whether you're an omnivore or a vegan, whether you want meals ready-made or pre-measured fresh ingredients.
You maintain control of your menu, the frequency of the delivery, and if you ever want to pause or cancel the service. This lets you experiment with the freedom to find your ideal fit.


2. More accountability
Investing in convenience sets you up for success. Because let's face it, the very fact that you are paying for food to be delivered to your door is going to be a big step toward keeping to your diet.
Not only that, but the experience is rewarding in itself: picking your food from delicious options, the anticipation while it's delivered, receiving your order, then open and enjoy. Automated positive reinforcement is the ultimate accountability partner.
Plus, who doesn't like getting a gift in the mail? You're less likely to cheat on yourself when you're having so much fun!


Explore the Options
Trifecta delivers healthy, organic, delicious foods to your door, helping you obtain (and maintain) a slim figure. They cater specifically to low-calorie diets, with special options for Keto, Vegan, Clean, Paleo, and Vegetarian diets. Each meal is low sugar and high protein. No dairy, gluten, soy, or GMO products allowed!
At Matrix, this is our absolute favorite meal delivery service. Their selection fits well with our low carb, high veggie, healthy protein, Matrix Diet. Plus all of their ingredients are organic and meticulously selected.
Some of their delicious options include
Egg Scramble with Sausage & Potatoes
Flat Iron Steak
Muffins
Mixed Veggies
Cinnamon Maple Almonds


This industry is booming which means lots of competitive, good-fit options for you. If you love cooking but hate searching the internet for recipes, you don't have to sacrifice your diet for convenience.
Other healthy meal delivery services offer meal kits with pre-prepped ingredients, spices, and fresh meats. You get the satisfaction of cooking without the trial-and-error that goes along with most diet-friendly recipes.
These are a few top choices to choose from:
HelloFresh - Get everything you need for a healthy meal without having to find all the ingredients yourself. They offer the biggest variety of make-it-yourself meals, including craft burgers, southwest shrimp tacos, and honey-glazed pork tenderloins.
Green Chef - Organic food = better food. Green Chef provides you with perfectly crafted recipes with fresh ingredients that you can put together in a jiffy.
Terra's Kitchen - This healthy option provides fresh meal kits safe for Keto and Mediterranean dieters. They even offer cutting-edge DNA-based diets to fuel your specific metabolism.


Invest in Your Optimal Health
"Willpower by itself is not enough. If we want to achieve lasting change,

we must have an effective strategy". - Tony Robbins
Having healthy options on-hand is essential to keeping your goals. Healthy meal delivery service has proved to be an ideal ally for the men and women in our program.
If you're ready to make positive changes to your health, we invite you to join the Matrix program. Together, we'll help you


Lose weight
Gain energy
Feel confident
Look amazing
Improve long-term health
Reduce signs of aging


Everything you need to feel good again, now.