Steve was tired, overweight and unsure how to best take care of himself. With 2 years in the Matrix program under his belt, he's now enjoying the freedom and confidence that comes with health. But don't take my word for it — see what he has to say.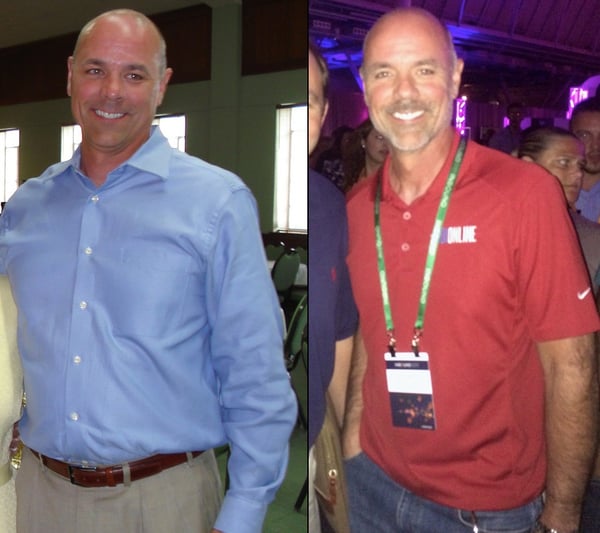 Steve's Story
"As I've aged, I've had this nagging thought in my head — I should be doing something to take care of my health better. With every approaching birthday I would mutter to myself that I was going to really do it this year. I wanted to feel younger not older. I wanted to know what to work on as far as what I should be eating. In the back of my mind, I wondered what serious health issue was waiting for me in the wings that I didn't know about.
There is so much information available about diets, supplements, and exercise. But I didn't know what is best for me. The problem is that if I'm self diagnosing, do I really know what is best for me? Am I really eating what is best for me? Are the vitamins I'm taking really doing me any good? How should I be exercising now that I'm older?
I found that I was deferring doing anything because I wasn't confident about what I should be doing even though I knew I needed to do something.
One thing I am certain about is — aging isn't fair.
I learned about Matrix Age Management and met Dr. Proffer. He himself has been following an age management program for several years and has seen the improvements and results in his own life. He has worked with clients like me for years as well.
We met and he went over my goals and expectations and filled me in on how the Matrix program worked. He ordered extensive lab work and a body scan. After receiving my lab results, he sat with me and we went over them together. I gained some very interesting insights into my health and my propensity for certain health conditions. From the information, I became motivated to start making efforts to change the course of my health.
Dr. Proffer gave me a plan that was very specific to my needs. It included a diet and exercise plan and the "why" behind it all. He prescribed a supplement regime as well. As I followed the plan, my lab results and body scan reflected the improvements and changes as expected.
I own a business and I have many people that depend on me and the decisions I make. I feel better. I have more energy. I sleep really well. And these things impact my performance as a leader. I feel it's my responsibility to be better for my employees, clients, and those I'm close to. Matrix has helped me do this.
The best part for me has been that I have gone from knowing I needed to do something but not doing anything to knowing what I need to do and why. I have a plan to follow and I'm seeing actual results not only in my labs but in how I feel as well."


If you're ready to transform your body and change your life going into the new year.. schedule a consultation below!