Every day the news brings more stories about overdoses and addiction, lives ruined, and long roads to recovery in the shadow of the opioid crisis currently gripping the United States. Studies show over 64,000 overdose deaths attributed to opioid use in 2016. An estimated 1 in 5 young adult deaths in the U.S. were a direct result of opioid abuse. And more than 115 people in the U.S. die each day from opioid related overdoses – a figure that continues to grow.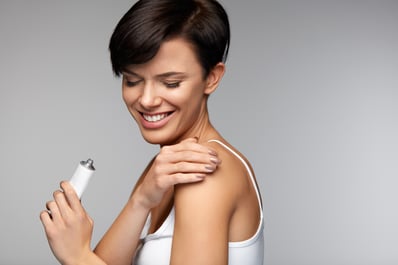 One of the prime drivers of this social crisis is the widespread misuse of prescription opioid medications. Fortunately, there are alternatives. When it comes to acute and/or chronic pain, one of the best defenses is having a good offense. That's where opioid-free creams and topical treatments come into play as effective therapy alternatives for pain-relief.
Alternative Pain Relief
Some examples of OTC opioid-free creams and topical treatments include:
Bengay – This cream is used to relieve muscle and bone pain. Using a combination of salicylates, camphor, and menthol, Bengay helps to reduce inflammation. Its alternating cooling/warming effect allows the pain relief to work deeper into the musculoskeletal source of pain. This is a good nighttime alternative, as the menthol scent can be quite strong and lasts a fairly long time.
IcyHot – Using a combination of menthol and salicylates, this gel also utilizes an alternating hot/cool effect to work pain relief deeper into the muscle. Unlike Bengay, IcyHot is a "vanishing gel" that allows the scent to disappear quickly. This option would be a subtler daytime choice for topical pain relief.
Myoflex – This is an odorless salicylate cream that absorbs into your skin quickly without the lotion-like residue left by most topical creams. Myoflex is a great option for people who dislike the feel of typical pain-relief creams and gels.
Capzasin-HP – This topical treatment contains capsaicin, an active component of chili peppers! That heat you feel when eating a pepper is reduced to a pleasant warming sensation on the skin and helps relax muscles, allowing for extended healing time and pain reduction.
Medication Free Options
Some people just don't like medication or have certain allergies to topical NSAIDs. In these cases, there are options available for a pill-free/opioid-free approach to pain management.
Some of those options include:
Deep tissue massages
Acupuncture
Tai Chi
Yoga
All of these activities take a whole-body approach to effectively managing chronic and acute pain.
Your best defense to falling victim to a dangerous and unexpected prescription-based addiction is to have a strong offense. Skip the opioid-based pain relief from the start and choose an opioid-free cream or other topical treatment as a safer, healthier alternative.
If you have questions about pain creams, topical treatments, or diet/nutrition/supplement options that can help you manage pain without the side effects often seen with prescription medications, contact Matrix Age Management and schedule an appointment with Dr. Proffer today.