The holidays are coming: that time of year when everywhere you turn you smell something amazing. And, if you're like most people, you give yourself a little leeway during the holiday season. After all, you want to enjoy everything about the season — including the desserts.
However, you also want to be mindful of your choices and your health.
Keep Your Weight In Check This Holiday Season
Office parties, pot-luck dinners, family gatherings—when Thanksgiving, Hanukkah, Christmas, Kwanzaa, and other seasonal holidays come around, the treats and calorie-laden food appear as well. That makes temptation harder to ignore, which can translate into extra pounds.
In fact, the average holiday weight gain can range from one to two pounds. However, people who are already overweight or obese can gain up to five pounds each season.
Because these pounds are rarely 'lost' at the same rate they're gained, over time, they can add up. This added weight can increase an individual's overall chance of developing health problems later in life.
Enjoy the Holidays And Still Maintain Healthy Habits With Our Free Portions Guide
The good news is, you can keep holiday weight to a minimum and still enjoy your favorite foods. There's no need to let calorie counting weigh you down!
Matrix's Holiday Eating Guide is a detailed collection of tips, tricks, and recipes that was designed to help anyone who wants to manage their weight over the holiday season. And you can get yours today!
If you're looking to maintain your weight, continue your healthy eating habits, or even hoping to lose a few pounds, a successful outcome is all the easier with access to recipes like: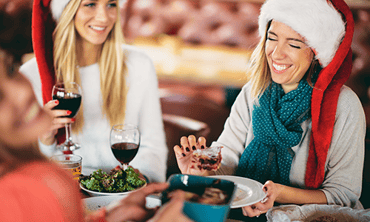 Beef & Bacon Stuffed Butternut Squash, or

Slow Cooker Honey Garlic Chicken with Vegetables!
And, while your new holiday menu options are simmering away, you can learn how to incorporate more exercise into your daily (winter) routine and gain access to tips and tricks on everything from watching your portions to watching your drink intake.
This year, don't just survive the holiday party circuit, come out the other side stronger and healthier. With our guide, you can enjoy your office parties and family gatherings, while also allowing you to make smarter choices that will follow you into the new year.
If you're looking to keep your weight in check, your health elevated, and still enjoy the upcoming holiday season, download our Holiday Eating Guide and prepare to celebrate smarter!